Form Sharing and Collaboration
With Powform, your team can collaborate and work seamlessly through rapid form sharing. Basically this feature allows sharing the form with other Powform users.
Our Form Sharing feature makes it easy to ask for modifications, suggestions or feedback from another team member, show another user how the form works, and much more. Team members can make changes to a form and send it to an administrator or publisher for approval, sign-off and final publishing. Learn how to use it below.
Finding and using the new Share Feature
The sharing functionality can be found while opening a saved form.
From the Powform dashboard, click Forms from the left panel and then Open Saved.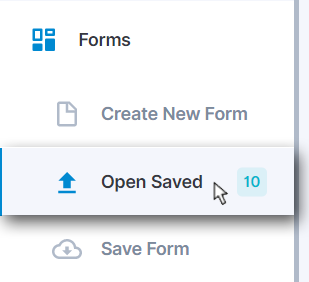 From the prompt that just opened, choose the form you want to share and then click the sharing button, just like below.

A new window will appear where you can add information about the receiver and other details.
Individual email

Here you type the other Powform user's email that will receive your form. This is the only required field.
+ Add user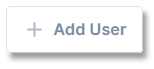 If you are sending the form to 2 or more Powform users, you can click the + Add User button to create an additional email field. You can add as many users as needed and delete a field using the bin next to it.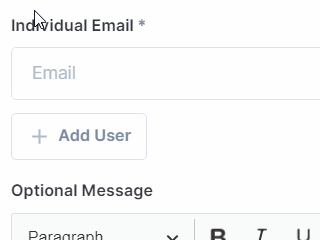 Optional message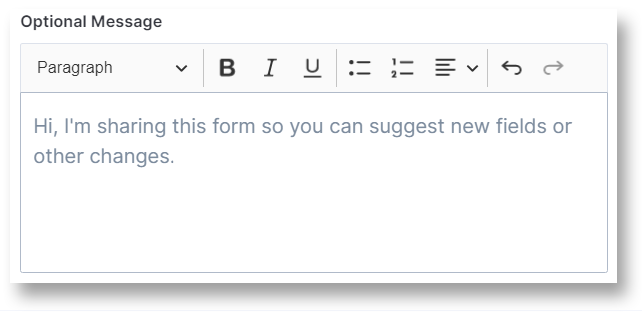 This is an optional box where you can write any message to the receiver. Some suggestions are:
Show someone how a form can be

structured or configured

.

Demonstrate how

Conditional Logic

can be included in the form's configuration.

Ask the other user to make the necessary changes.

Send it to a supervisor for approval.

Ask for another user's feedback or opinion.

And more.
Importing the shared form
Powform will instantly send an email with the sender's name, the form's name, the date, a link to the form and the optional message you wrote. Check out below how the email will appear for the receiver.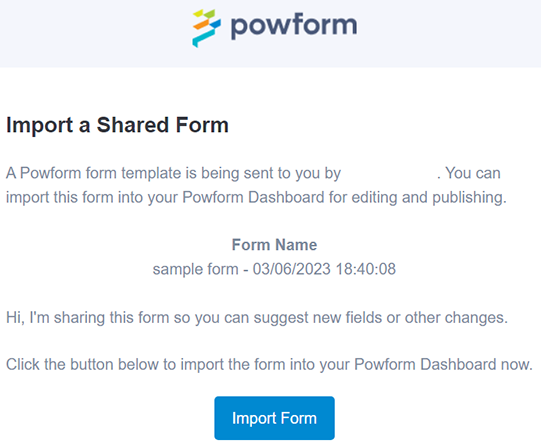 The receiver just needs to click Import Form and then a new tab with the button Go to Form will appear, which can be clicked to access it.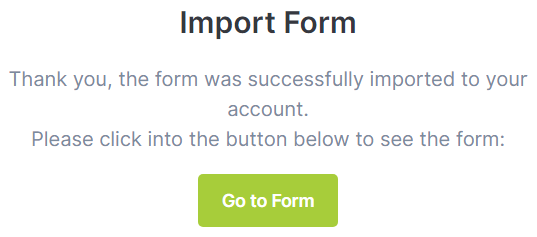 All of the edits can be made, such as excluding, adding components, or changing their properties, names, positions, and more.
Now it's possible to export the form into a Web App that'll be sent to your clients and partners, or send the modified version back to the original sharer.
Sharing the modified form back
To keep things simple, the process to send the form back is the same as it was for the sender.
First of all, click Save Form from the left panel and give it a name, which can be the same as the original form or choose a different one, e.g. "Form with modifications 1.0". Now follow the same steps as a sender:
Click Forms, then Open Saved from the left panel.

Select which form will be shared and click the Share Button:

.

Insert the receiver's email address;

Write a message, optionally. You can write which changes were made in your edit, for example,
Get started with Form Sharing now and see how it will benefit your team's collaboration.
Highly Configurable - No Coding
Build professional and fast branded e-commerce and customer data collection web apps, no coding experience needed. Scalable solutions that can be built and integrated into your business in minutes.

Powform enables you to create branded, interactive, multi-feature apps for mobile and desktop browsers, including all the smart features you need collect customer data and payments. With the addition of conditional logic you can provide a more tailored experience for your customers.

Our managed secure database allows you to store and analyse all submitted web app data.

Want to store all app data in house?
App submissions can be directed to other business systems via secure authenticated api services.
Contact us today to discuss your custom branded no-code web apps requirements.
Get Started Now